Of all of the facets that a buyer analyzes when considering a neighborhood, the quality of community relations is often overlooked. Details such as heated square footage, lot size, updates and layout often predominate searches. However, the nature of the community has a tremendous impact on many people's enjoyment of their neighborhood. Fortunately, community can be fostered! Here are 6 tips for creating community-with an Asheville spin:
1. Create Common Spaces
With all of the emphasis in Western culture on drawing lines in the sand, if a few neighbors share a little space, it can create a world of difference in neighbor relations. Creating a community garden with shared work and shared bounty provides continued opportunities for connecting. Asheville has several stellar examples of community gardens. Montford Community Garden in Montford Historic District and Falconhurst Community Garden in West Asheville are among these.
Another trend in Asheville neighborhoods is the emergence of the Little Free Library movement. There are over 20 registered free libraries within Asheville. Stewards of neighborhood libraries place a small library somewhere on their property near the street. It is the community's responsibility and privilege to both keep the library stocked and enjoy its treasures.
Individuals can create common recreational areas in their yards and invite the community to enjoy it. For example, put up a basketball goal in your cul de sac or driveway. If you own a pool, create a flag system where you put up a green flag if you are willing to host open pool hours and a red flag if you want private pool time.
2. Hold Regular Community Gatherings
Planned community gatherings, where there is an attempt made to include every neighbor, is a fantastic way to meet all of the individuals living near you. Even if no one is willing to host a large group of people, park spaces and community centers make great gathering places. Some churches and businesses are even willing to allow the use of their parking lot. Several neighborhoods in Asheville have been known to host block parties by officially closing off their street for a few hours.
Some ideas for community gatherings are yearly yard sales like the ones held in Biltmore Park and Malvern Hills or community potlucks. On Halloween, the neighborhood surrounding Vermont Avenue in Historic West Asheville goes to great lengths to decorate their homes and hand out tons of candy. People come from far away to attend this community-hosted gathering.
3. Organize a Community Fundraiser
There is no greater way to really get to know your neighbors than to put your heads together and raise money for a cause. The Montford neighborhood hosts an annual music and art festival where all proceeds go to fund community projects and activities of the Montford Neighborhood Association. Malvern Hills neighborhood hosts an annual food drive, bringing hundreds of pounds of non-perishable items to MANNA food bank yearly.
4. Volunteer together as a neighborhood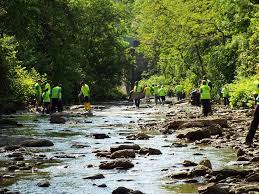 With as many nonprofits as there are in Asheville, there are so many ways to rally your neighbors together in a group volunteer effort. One of our favorite nonprofits, Asheville GreenWorks, is happy to outfit your group with all that you need to do a litter pick-up in your neighborhood. River-Link is your go-to resource for adopting a stream in your neighborhood.
5. Create a Community-Friendly Front Yard
Instead of installing tall fences in your front yard, consider installing benches and half-walls good for sitting on. Plant blueberry bushes and raspberry bushes near the front of the yard and encourage neighbors to help themselves. Plant beautiful perennial borders both on the inside of your fence and on the outside for your neighbors to enjoy.
6. Go Out on a Walk to Know Your Community
The easiest thing that you can do in your neighborhood to create community is to simply get out and stroll. Stopping and talking with neighbors, delivering a newspaper to an elderly person's door, and frequenting lemonade stands of neighborhood kids will let you make those invaluable connections.
For more information on real estate in Asheville, please contact Mike Figura at mike@mymosaicrealty.com or call him anytime at (828) 337-8190.
Search: View all homes for sale in Asheville