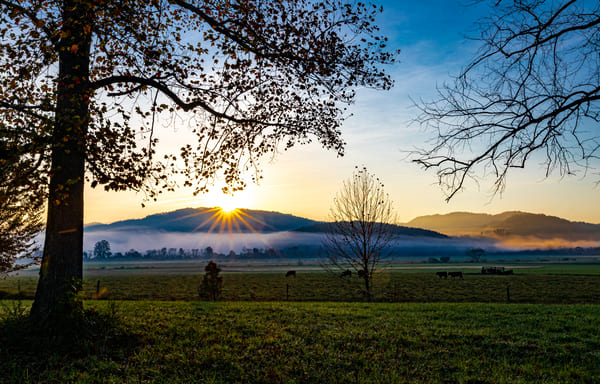 The Henderson County, located about 20 minutes south of Asheville in the heart of the Blue Ridge Mountains, boasts a gentle climate, breathtaking views, rich culture and history, and lots of outdoor recreational attractions. The area's eclectic towns feature unique shops, galleries and dining options along picturesque main streets. The area's famed Cheers! Trail showcases more than 20 different tasting experiences showcasing the region's beer, wine, cider and mead crafters.
The unincorporated community of Bat Cave sits along the banks of the Broad River within the Hickory Nut Gorge. Bat Cave features the largest known granite fissure cave in North America. Although the cave, home to the endangered Indiana bat, is off limits to protect its inhabitants, the community offers plenty of trails to explore. Eclectic shops, inns and restaurants are a hallmark of Bat Cave. Read more about Bat Cave.
The compact community of Edneyville offers convenient proximity to such natural attractions as Pisgah National Forest, DuPont State Forest and the Great Smoky Mountains National Park. An afternoon in Edneyville can involve everything from hiking to mountain biking to fruit picking at one of the many farms that dot the area.
Nestled in a valley along the banks of the scenic French Broad River, Etowah boasts a small-town feel big on natural beauty. It's bordered to the north by Mills River and to the west by Transylvania County – which means outdoor adventure, including mountain biking, hiking and rafting, is just minutes away. Read more about Etowah.
Teeming with history, the village of Flat Rock offers scenic landscapes and breathtaking vistas. It is home to the Carl Sandburg Home National Historic Site as well as the Flat Rock Playhouse, the State Theatre of North Carolina. Quaint local shops, galleries and restaurants dot the downtown of Flat Rock, 30 miles south of Asheville. Read more about Flat Rock.
Fletcher, a small Henderson County town, is located between Asheville and Hendersonville in Western North Carolina. With a population of around 7500, Fletcher has a suburban and rural feel with great proximity to the amenities of the larger surrounding cities and opportunities for recreation in the surrounding Blue Ridge Mountains. Read more about Fletcher.
Hendersonville, North Carolina is a beautiful town located between the Blue Ridge Mountains and the Great Smoky Mountains. The community provides a wonderful combination of good food, amazing views, and exciting outdoor adventures. From white water rafting to craft breweries to history and culture, there are plenty of activities for everyone to enjoy. Downtown Hendersonville has plenty of shops, restaurants, and galleries to explore. Read more about Hendersonville.
Filled with historical buildings and vibrant streetscapes, Historical Downtown Hendersonville – the largest downtown in Western N.C. outside of Asheville – offers many outdoor dining options, as well as unique shops and galleries, along Main Street. Historical Hendersonville's downtown is part of the Main Street Program, aimed at revitalizing central business districts across the country through historical preservation, attention to design, and thoughtful recruitment of businesses.
Horse Shoe, North Carolina is located in Henderson County about 4 miles south of Mills River. The small, quiet community offers residents a rural feel and the French Broad River runs through the area. Most of the residents in Horse Shoe own their homes. Read more about Horse Shoe.
Featuring nature trails and scenic overlooks, Laurel Park packs a lot of Blue Ridge beauty into its compact community. True to its name, Laurel Park is home to three parks – Jump Off Rock Park, Rhododendron Lake Nature Park, and Little Laurel Green Park – perfect for spending a relaxing afternoon. Read more about Laurel Park.
Mills River is a small town in Henderson County located between Asheville and Hendersonville, NC. With a population of around 7500 people, Mills River features a topography filled with tributaries of the nearby Mills and French Broad Rivers. Just northeast of the town of Mills River is Interstate 26 and the Asheville Airport. Proximity to Pisgah National and its network of trails is a major perk of living in this area. Read more about Mills River.
This small community in north-central Henderson County serves up relaxing views from expansive homesteads, with Appalachian adventures just a short distance away. Read more about Mountain Home.
Named for the valuable deposits of zircon in the area, Zirconia is enveloped in striking beauty and nearby cultural attractions. Spend a day enjoying a range of outdoor adventures in the area, then take in dinner and a performance at the Flat Rock Playhouse in the evening. Read more about Zirconia.
If you have any questions about communities or real estate in the Henderson County of North Carolina, contact Mosaic Community Lifestyle Realty today!