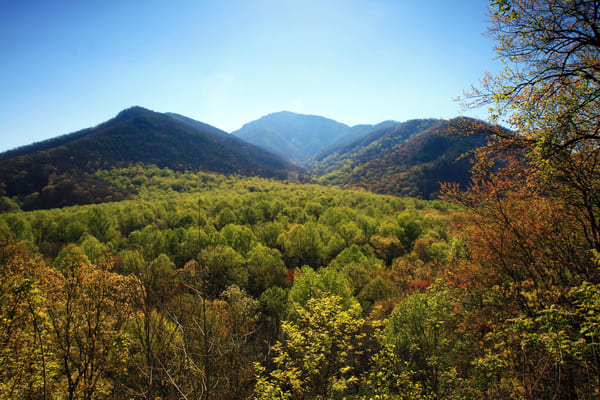 Home to the Great Smoky Mountains National Park, Haywood County is rich in natural adventure and family-centric fun. The area offers breathtaking drives along the Blue Ridge Parkway, with stunning spots perfect for an afternoon picnic; its Appalachian towns are overflowing with regional arts and crafts; and outdoor activities abound, whether it's hiking, golfing, skiing or water sports.
The Haywood County community of Bethel is nestled in Pisgah National Forest, with Black Balsam Knob and Cold Mountain just minutes away. The Blue Ridge Parkway snakes along Bethel's southern border, offering countless opportunities for scenic outdoor activities; the area's healthy populations of wildlife and trout make it a popular hunting and fishing destination.
The historic mill town of Canton, North Carolina offers a low cost of living and beautiful surroundings with plenty of recreational activities for all ages. Located on the Pigeon River, just 20 miles from downtown Asheville, residents enjoy quiet, small town charm with the conveniences of living near a city. Read more about Canton.
If you're looking for small-town charm amid the majestic Smokies, Clyde fits the bill. The town sits just 23 miles west of Asheville, and is home to Haywood Regional Medical Center and Haywood Community College. Steeped in rich Appalachian history, Clyde offers a scenic, peaceful backdrop to unique shops and restaurants. Read more about Clyde.
Nestled in a picturesque valley just 27 miles west of Asheville, Lake Junaluska offers the perfect mix of pristine beauty and thrilling outdoor activities. The lake is anchored by a popular spiritual retreat center, and serves as the ideal spot for canoeing, paddleboarding, kayaking or swimming. An array of homes dots the lush forests surrounding the lake, serving up stunning views and relaxing settings. Read more about Lake Junaluska.
Home to the popular Cataloochee Ski Area, Maggie Valley serves up year-round fun with both its natural beauty and its unique attractions. Enjoy waterfall hikes and elk-watching excursions, or stop in to Wheels Through Time, a museum with 250 rare antique motorcycles and automobiles. Maggie Valley's many independent restaurants and shops reflect the area's friendly small-town feel. Read more about Maggie Valley.
Waynesville, North Carolina boasts mild temperatures in the summer and beautiful snow filled mountains in the winter. Residents in Waynesville enjoy proximity to the Great Smokey Mountains National Park and the Blue Ridge Parkway, each offering an array of recreational opportunities. The popular Main Street features local restaurants and breweries, a variety of shops, and annual festivals. Read more about Waynesville.
If you have any questions about communities or real estate in Haywood County, North Carolina, contact Mosaic Community Lifestyle Realty today!