With the New Year come fitness resolutions that often by February fall by the wayside. Keeping exercise interesting and varied is key to a regimen that sticks. In Asheville, fun, unique ways to work out are plentiful; the hardest part will be choosing a fitness track to take. Below, a few options to inject some excitement into exercise:
Circus Arts in Asheville
No, this isn't clown school. Think silks, trapeze, hand balancing and other specialized movement arts. At Aerial Space studio – the first circus arts studio in N.C. – students can take group classes and private lessons in these specialties, along with contortion, slacklining, pushing hands and more.
Interval Training
If you're looking for an innovative interval-based strength and endurance program, intentionally crafted to deliver a specific intensity, try the MADabolic program. Everything is predetermined, carefully structured and built to complement any active lifestyle. MADabolic – which stands for momentum, anaerobic and durability – is designed around work-to-rest ratios, providing an intense environment scalable to your abilities.
Pole Fitness
Once confined to gentleman's clubs, pole dancing has gained popularity as a mainstream form of fitness. At Empyrean Arts in South Slope, students can try their hand at pole or chair dance, pole spin, flexibility contortion, or partner acrobatics, along with an array of circus arts options.
CrossFit Asheville
CrossFit is constantly varied functional movements performed at high intensity. All CrossFit workouts are based on functional movements, and these movements reflect the best aspects of gymnastics, weightlifting, running, rowing and more. Regardless of sport or competitive level, CrossFit helps people feel solid, move efficiently, and recover quickly, reducing risk for injury while increasing overall athleticism. Two local options are CrossFit Asheville and CrossFit Pisgah.
Hot Yoga
If you love yoga but also crave a cardiovascular boost, here's a cool option: hot yoga. Hot yoga is performed in intentionally heated studios to protect muscles for safe deep stretches and greater freedom of movement. The heat opens pores to flush out toxins, and increases the heart rate. Hot Yoga Asheville offers beginning (Bikram) hot yoga classes – a series of 26 postures done two times over – and hot Vinyasa flow classes, set to upbeat music and incorporating more Ashtanga postures like downward dog, warrior and pigeon.
Indoor Rock Climbing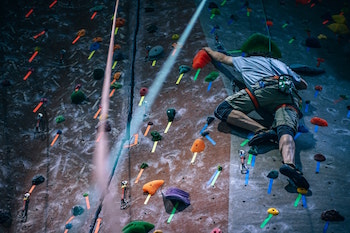 When the weather's inclement, or you just don't want to venture outside Asheville to get a rock climbing adventure in, opt for an indoor climbing wall. Climbmax Climbing has two locations, and offers basic belay instruction, climbing basics skills courses, and lead skill courses, among others.
Barre Workout
Utilizing the ballet barre to perform small isometric movements set to music, barre workouts tone glutes, thighs, abs and arms. At Pure Barre in South Asheville, all classes are the same level, and the positions and movements are basic – it's how deep you work them that creates a challenging workout.
Expressive Dance
Exercise that doesn't feel like exercise might just be the ticket to a sustained fitness regimen. At Studio Zahiya, a boutique dance and movement space, you can take belly dance, hip hop, and Bhangra – an energetic and joyful dance from Northern India. Drop-in and enrollment dance classes are available for adults and kids.
For more information about our area or about real estate in Asheville, please contact Mike Figura at Mike@MyMosaicRealty.com or call him anytime at (828) 337-8190.