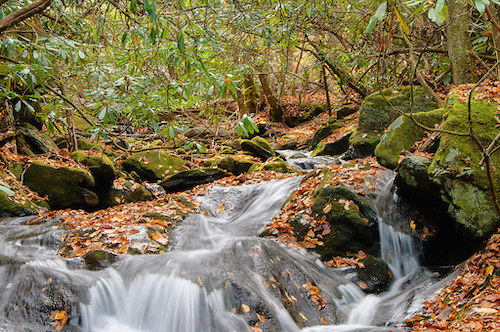 The mountain community of Riceville, just 7 miles northeast of Asheville, provides the perfect balance of proximity and privacy. Riceville's rural setting makes it feel worlds away, but a short drive will bring you to the bustling retail corridor of Tunnel Road, as well as downtown Asheville and the Blue Ridge Parkway. A variety of home styles, from historic river homes to new construction homes with views of the Blue Ridge Mountains, dot the community.
Wild for nature
Riceville boasts some of the most undeveloped land in Buncombe County, with a high biodiversity of flora and fauna. Oak, maple, hickory, birch, pine, ash, beech, buckeye, sourwood, and poplar are only a few of the tree species found here. Riceville's forests, lakes and ponds are also home to many species of wildlife. The forests provide nesting grounds for a variety of migrating birds. Mammals such as black bear, coyote, bobcat, raccoon, fox and possum roam Riceville's forests.
There are plenty of trails for residents seeking an escape into nature. The nearby Shope Creek watershed area, a small gem at only about 1,700 acres, provides trails featuring beautiful forests, cascading streams, small waterfalls, and some cliff-top views. With elevations ranging from around 2700 feet to 5230 feet, the area has over a half-mile of elevation change and a surprisingly diverse and robust ecosystem.
Activities for everyone
Being close to the Blue Ridge Parkway is a major advantage to calling Riceville home. Take a short drive, and you're assured quick access to such popular parkway spots as the hiking destination of Haw Creek Valley Overlook (milepost 380) and the Folk Art Center (milepost 382). Historic Biltmore Village – with its many shops and restaurants – and the Biltmore Estate are just down the road, offering Riceville residents lots to experience in their own backyard. The 42-acre Western North Carolina Nature Center, mere minutes away, provides plenty of family fun with more than 60 species of animals to see.
Riceville families enjoy many educational and enrichment options. Buncombe County Schools serves the immediate neighborhood; other options are nearby charter schools Evergreen Community Charter School and ArtSpace Charter School. The popular Roots & Wings School of Art and Design offers enrichment opportunities for every age, from preschool for tiny tots, to after-school community design labs for big kids, to adult studio classes.
Shops galore
A long list of stores a short drive away means Riceville residents never have to travel far to find what they need. Home Depot and Walmart Supercenter are nearby. The Asheville Mall, as well as big-name chains like Best Buy, Lowes, Bed Bath & Beyond and Whole Foods, mingle with smaller boutiques and specialty stores to offer the ultimate retail mix. Nearby Highland Brewing Company offers the perfect opportunity to enjoy famed locally brewed beers on an expansive outdoor lawn. And just a short drive west, via I-240, puts you in the heart of downtown Asheville, with its vibrant restaurant, retail and arts scene.
For more information about real estate in Riceville, or anywhere in the Asheville area, contact us at Info@MyMosaicRealty.com, or call us anytime at 828-707-9556.
Search: Asheville Area Real Estate