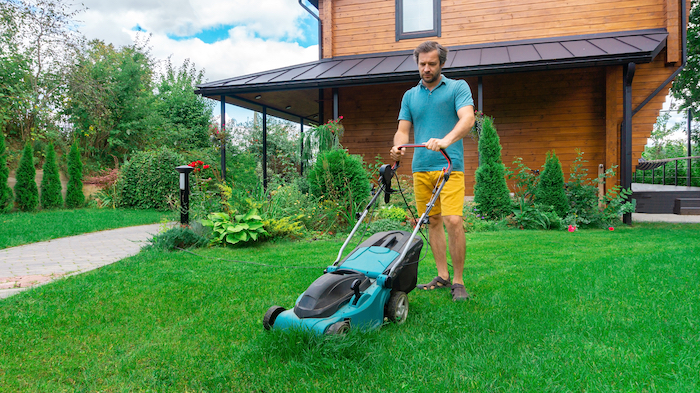 As the Asheville area settles into spring, it's time to turn your yard green – in more ways than one. Eco-friendly tools and strategies for building up a beautiful outdoor space are easy to implement. Here are a few to consider:
Help nature naturally
Try mulching grass clippings back into your lawn as you mow, instead of bagging them for the landfill. Mulched clippings can also be used around flower beds, trees and plants to retain moisture and suppress weeds. Instead of bagging leaves, you can blow them directly into flower beds, where they will decompose into food for your plants and a natural layer of warmth and protection for new growth.
Skip chemical-laden fertilizer for your garden in favor of compost. You can create an at-home composting system to turn food scraps into free, nutrient-rich nourishment for your yard, or you can subscribe to Asheville-area services like CompostNow, which allows anyone to compost without the maintenance of a compost bin. Members receive bins that they can fill with compostable items; the bins are collected on a weekly basis and returned with earned compost, either to you or to a local community garden of your choosing. (www.compostnow.org)
Water wisely
There are many ways to water smart and still keep your yard happy. Harvesting rainwater via a rain barrel – which connects to your roof gutter's downspout – cistern or rain chain means you'll be using much less household water. Another option is to install a smart irrigation system with a sensor, which only waters when needed and can save thousands of gallons a year.
Give gas the boot
Lawn mowers, hedge trimmers, leaf blowers and other yard equipment long depended on gas – but today's market is filled with electric and battery-powered options that eliminate the noise and air pollution so damaging to our environment. And if you have a small parcel of grass to cut, consider a tried-and-true push mower.
The amazing shrinking lawn
To trim down the time, energy and resources needed to keep your lawn in check, consider replacing it. Ground cover – such as creeping perennials or clover lawns – requires little to no mowing, and can flourish with very little care. You can also replace grass with pavers, stones, pea gravel and the like.
To learn about real estate in the Asheville area, connect with us at Info@MyMosaicRealty.com, or call anytime at 828-707-9556.
Search: Asheville Area Real Estate