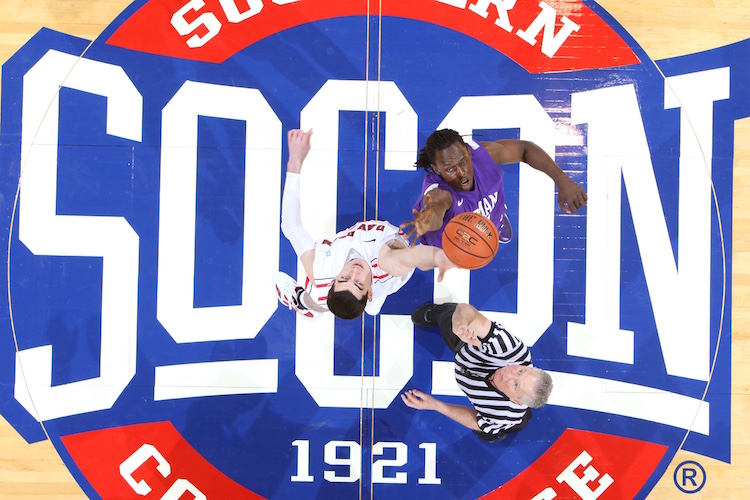 The Southern Conference Men's and Women's Basketball Championships are an exciting annual draw to Asheville, and this year's event promises another fun-filled weekend of nonstop action, on and off the courts. The college basketball championships will take place March 1-5, 2018, at the U.S. Cellular Center in downtown Asheville. Women's quarterfinals kick off Thursday, March 1, while Men's first round starts Friday, March 2.
For fans visiting the city to attend the games, Asheville offers plenty of restaurants, breweries, shopping and activities to make the weekend an all-around winner. Businesses around town – including Diamond Brand Outdoors, Asheville's Fun Depot, Asheville Outlets, Gray Line Trolley Tours, and Adventure Center of Asheville – will be offering discounts and special deals for fans.
The championship games are sponsored in part by Mosaic Community LIfestyle Realty and Mosaic agent Kathleen Cook. " I'm thrilled to be supporting a college sports tournament that brings so much to our Asheville community. As an avid sports fan, it's amazing to see how the SOCON basketball tournament positively impacts our city. In it's 7th consecutive year in Asheville, SOCON draws an average of 30,000 - 35,000 sport fans to our downtown and more than 6 million dollars in expected economic impact to the area. That's tremendous not only for us college-hoops-lovers, but for Asheville as a whole," says Cook.
For fans wanting to get in on the basketball action, there will be a series of fun family events:
· Downtown Dribble & Kid Fest Saturday, March 3, from 9 to 11:30 a.m. in Pack Square. Families will enjoy a pep rally filled with inflatables, obstacle courses and more. The first 700 children who register to participate in the event will receive a free basketball and t-shirt and the opportunity to participate in the dribble parade from Pack Square to the Cellular Center. In addition, they will receive free admission to the Men's Quarterfinal noon session.
· The SoCon Teddy Bear Toss, Saturday, March 3, at noon. When you make a small donation to Mission Children's Hospital, you'll receive one of 1,500 stuffed animals to throw on the court during the Teddy Bear Toss. The bears will be donated to the children's hospital.
· The second annual Ingles Jamfest, Sunday, March 4, from 1:30 to 3:45 p.m. (after the women's championship game and before the men's semifinals). The outdoor tailgate party, outside the Cellular Center, will feature popular local musicians, as well as local food and beverage vendors.
· Hometown Heroes Night, Monday, March 5, at 9 p.m. The final evening of competition will honor Hometown Heroes, the people and organizations that help keep us safe every day. Members of military, fire, police, emergency and medical services, charitable organizations, and civil service will have the opportunity to attend the men's championship game at 9 p.m.
· Hoops Against Hunger, all tournament weekend. Anyone bringing an approved food item to donate will get $5 off a single-session ticket for any session.
For tickets and more information on all the championship weekend events, visit SoConSpors.com .
For more information about our area or about real estate in Asheville, please contact Mike Figura at Mike@MyMosaicRealty.com or call him anytime at (828) 337-8190.
Search: View all homes for sale in Asheville