Got a foodie on your holiday list? This season, Asheville abounds with unique, locally crafted gifts to suit a range of tastes. Here are just a few of the many regionally made consumables sure to be a hit this holiday – gift a single item as a stocking stuffer, or cluster in a basket for the ultimate palate-pleasing present.
Lusty Monk Mustard
Handcrafted in small batches with all-natural ingredients, Lusty Monk is a local favorite that is quickly gaining a national presence. The family-owned company's fresh-ground mustards come in cheeky-named flavors – Original Sin, Burn in Hell and Altar Boy Honey – that deliver serious punch. https://lustymonk.com
Firewalker Hot Sauce Co.
Committed to handmade, small-batch production with locally grown produce, this Asheville company creates hot sauce with complex layers and depth to brighten and intensify food, not drown it. Using no artificial preservatives, GMOs or sugar, Firewalker's Original and Running With the Reaper flavors aim for the ideal balance of spice and heat. http://firewalkerhotsauce.com
Asheville Bee Charmer
This honey maker works with beekeepers across the region to curate a selection of raw honeys. Infused with herbs, peppers and spices, Asheville Bee Charmer's selection boasts unusual flavors and experiences ranging from sweet to heat. Offerings include spicy Chai, savory Rosemary, Firecracker Hot and more. https://ashevillebeecharmer.com
Roots & Branches
Specializing in artisanal crackers, Roots & Branches has grown from a tiny, in-home operation into a regional favorite. The owners still oversee every batch of crackers to ensure high-quality production. Cracker flavors like Black Pepper, Sesame Seed and Rosemary pair well with dips and cheeses to create the ultimate savory gift basket. https://www.rootsandbranchesavl.com
Looking Glass Creamery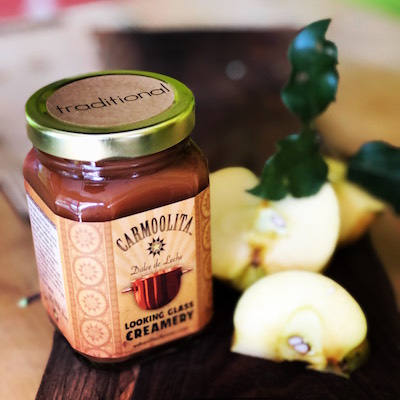 Started in 2009, this artisanal cheese producer handcrafts a variety of cheeses, from fresh to aged. Among local favorites are its Fromage Blanc, Chocolate Lab, Green River Blue, fresh Cheddar Curds, and a raw-milk Alpine style called Bear Wallow. The creamery also offers Carmoolita, a rich, dulce de leche-style caramel sauce. https://ashevillecheese.com
Hickory Nut Gap Farm
For the meat and pork lover on your list, this Fairview farm offers gift packages boasting pasture-raised, grass-fed beef and locally raised pork. For a unique gift idea or hostess present, there's a meat stick gift bag, salami chub gift box, cured meat sampler, or even steak sampler basket. https://www.hickorynutgapfarm.com/product-category/gift_packages/
Roots Hummus
This "Microbrew of Hummus," which produces, packs and ships out of its River Arts District facility, has found an ardent following for its spreads thanks to unique, high-quality flavors like Thai Coconut Curry, Lima Bean and Hot Chipotle. Add to a gift basket, or break out at your next holiday party. https://www.rootshummus.com
To learn more about Asheville or about Real Estate in Asheville, contact Mosaic Realty owner Mike Figura at Mike@MyMosaicRealty.com, or call him anytime at 828-337-8190.
Search: Real Estate in Asheville