Even if your home isn't green built, you and your family can still find ways to live a more environmentally friendly life at home. From installing low-flow showerheads to buying more energy-efficient appliances, even small adjustments can pay off big time for the environment – and for your wallet.
Get a Compost Bin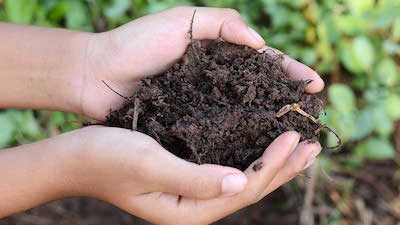 Composting kitchen scraps – coffee grounds, fruit, vegetable peels, even napkins – is a great way to keep food waste out of landfills, where it generates the greenhouse gas methane. And the resulting compost is a free, easy way to fertilize your garden. Invest in a compost bin, which is designed to hasten the decomposition of organic matter through proper aeration and moisture retention. Another option is worm composting, where worms eat food scraps, which becomes compost as they pass through the worm's body.
Save Water
According to the EPA, the average American household can waste 180 gallons of water per week through faucet leaks alone. Check and replace any leaky fixtures. In addition, installing low-flow showerheads and faucet aerators can curb unnecessary water usage. Outside your home, choose native vegetation for your landscaping, since they generally require less water. Install a rain barrel to collect water for outdoor use.
Replace Old Light Bulbs with LEDs
Swapping out old bulbs for LED (light-emitting diode) bulbs is an easy way to go green in your home. Old-fashioned incandescent light bulbs waste up to 90% of their energy as heat. LED lights use 80% less energy, and light about 25 times longer, than incandescent bulbs. LED lights don't produce as much heat, which can save on energy and maintenance costs.
Become a Fan of Fans
Air conditioning accounts for a huge portion of a home's electricity use. To save money and energy while still keeping cool in the summer, install ceiling fans or place inexpensive oscillating fans throughout your house.
Get Smart about Thermostats
Programmable thermostats, one of many types of new smart home features, regulate your home's temperature according to settings you create for certain times of the day. That means your thermostat can turn the air or heat off when you're not home, or lower it when you're asleep. A smart thermostat will save on energy costs, and prevent energy waste.
Seek Solar
Photovoltaic devices and materials, which can convert sunlight into electricity, are becoming increasingly popular for residential use. Solar power can be harnessed to create electricity for your home, to heat water and to improve indoor lighting. Though this feature is not necessarily easy for you to install, there are many local solar companies who walk you through the process and will help you navigate the existing rebates and tax incentives.
Plug Air Leaks
Apply weather stripping around your doors and caulk around your windows to prevent air leaks into and out of your house. Doing so will keep your HVAC system from having to overwork to maintain a desirable indoor temperature.
Upgrade Appliances
Got an old agitator washer in your laundry room? That machine uses about 70% more water than many models available today. Thanks to tighter restrictions on energy use, washers, along with other major appliances like dryers, refrigerators and dishwasher, are much more efficient and environmentally friendly. Swapping out your old, energy-hogging appliances for new, greener ones may seem pricey initially, but doing so will pay off in the long run.
For more information about green homes or about Asheville Real Estate, contact Mosaic Realty owner Mike Figura at Mike@MyMosaicRealty.com, or call him anytime at 828-337-8190.
Search: Real Estate in Asheville
Search: Green Homes in Asheville