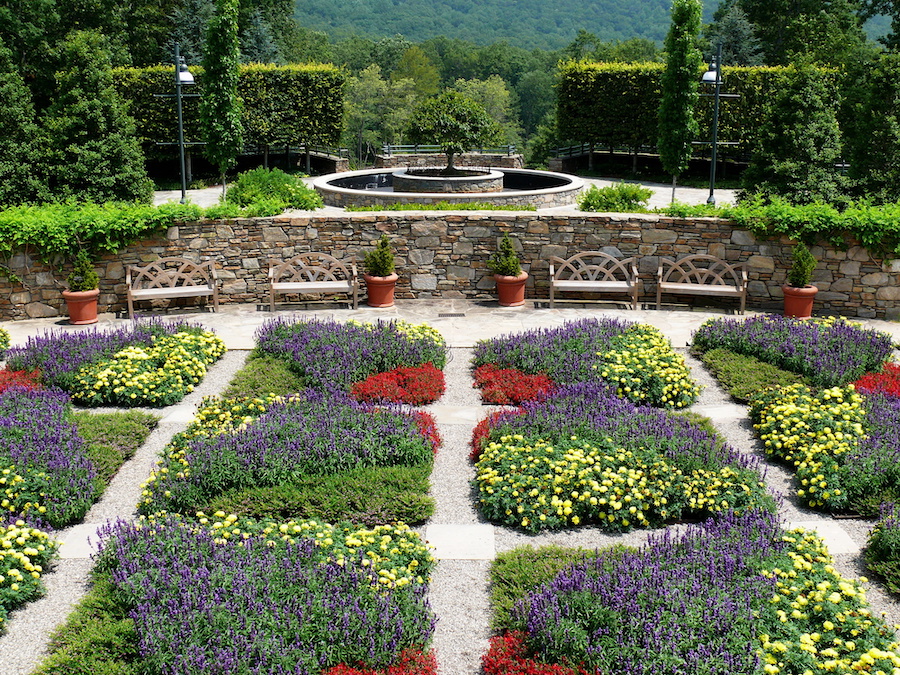 Western North Carolina is a region steeped in intriguing history, and the Asheville area offers many destinations in which to absorb that rich past. Spend an afternoon exploring one of these spots and you're sure to deepen your knowledge and appreciation of the area.
North Carolina Arboretum
The North Carolina Arboretum, a 434-acre public garden located within the Bent Creek Experimental Forest of the Pisgah National Forest, is surrounded by the lush, botanically diverse Southern Appalachian Mountains, allowing visitors to connect personally with nature in ways that are as unique and rich as the land itself. The arboretum offers year-round educational programs and learning experiences for adults, families, youth, school groups, and trade professionals that focus on environmental sustainability, art, science and economic development. From classes, to self-guided programs, to lectures and symposia, the arboretum's educational programs serve more than 18,000 children and 6,000 adults annually. https://www.ncarboretum.org/education-programs/
Smith-McDowell House
Ringed by picturesque mountains and overlooking the confluence of two rivers, Buck House was constructed around 1840, more than 20 years before the Civil War. During a time when most people lived in wood frame houses, the imposing structure was composed of brick, a rarity in early 19th century Asheville. Today it is known as the Smith-McDowell House, the oldest surviving house in Asheville and the finest surviving example of brick antebellum architecture in Western North Carolina. It serves as a timeline museum showing how families lived during the late 19th and early 20th centuries. The house is open to the public Wednesdays through Sundays. A small entry fee covers the self-guided tour. https://www.wnchistory.org/smith-mcdowell-house/
Thomas Wolfe Memorial
Thomas Wolfe, considered by many to be one of the giants of 20th century American literature, immortalized his childhood Asheville home in his autobiographical novel, "Look Homeward, Angel." Wolfe's colorful portrayal of his family, his hometown of "Altamont" (Asheville), and "Dixieland" (the Old Kentucky Home boardinghouse situated in what is today downtown Asheville) earned the Victorian period house a place as one of American literature's most famous landmarks. The Thomas Wolfe Memorial is a state historic site and museum offering daily tours; the museum also hosts events and book discussions throughout the year. https://wolfememorial.com
Cradle of Forestry in America
Nestled in Pink Beds Valley is the Cradle of Forestry in America, the birthplace of science-based forest management. Jointly managed by the U.S. Forest Service and the Cradle of Forestry in America Interpretive Association, the site is open to visitors every day from mid-April to early November to explore the past, present and future of environmental sustainability and stewardship. These are brought to visitors through paved interpretive trails, interactive exhibits, a sustainably designed Forest Discovery Center, nature programs, craft demonstrations, and special events. Visitors can view Historic Biltmore Forest School buildings that represent traditional, forest-based Blue Ridge mountain culture with lessons for today. An onsite antique portable sawmill, 1914 narrow gauge locomotive, log loader and road graders illustrate the simple and practical technology of yesteryear. https://cradleofforestry.com
Zebulon B. Vance Birthplace
This historic site, birthplace to the N.C. governor and U.S. senator, offers an intimate view of daily life on an early 1800s plantation in the Blue Ridge Mountains. Visitors can see the historic structures, including a loom house, tool shed, spring house, smoke house, and corn crib. Guided tours show visitors a 1790 slave house and discuss the 18 enslaved people that lived and worked on the Vance farm. Tours conclude at the reconstructed 1790s Vance home. https://historicsites.nc.gov/all-sites/zebulon-b-vance-birthplace
For information about Real Estate in Asheville, contact Mosaic Realty owner Mike Figura at Mike@MyMosaicRealty.com, or call him anytime at 828-337-8190.
Search: Real Estate in Asheville